White Mosque / Srinagar / J & K
Jama Mosque / Jalali / UP
Jama Mosque / Jammu / J & K
Jama Mosque / Herbertpur
Jama Mosque / Uttaranchal
Katra Mosque, Murshidabad, West Bengal
I have been here, and the specialty about this mosque is its corridors which from the other end looks never-ending.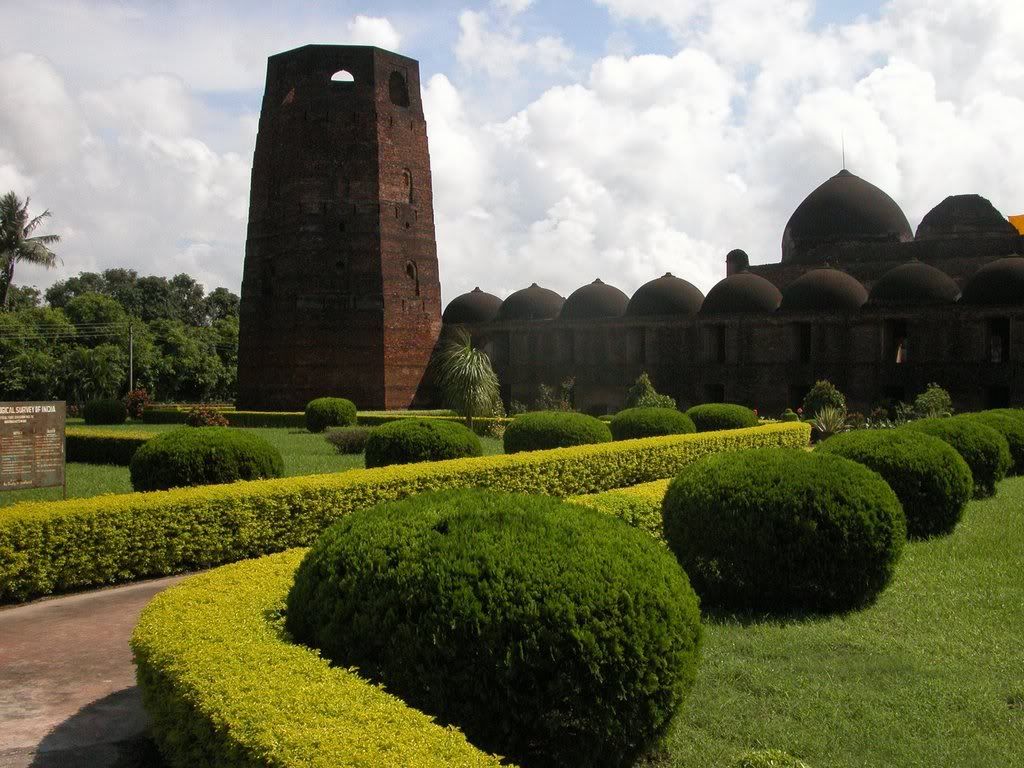 Pataudi Mosque / Old Delhi
Jama Mosque / Chandigarh / Punjab
Mogul Masjid
in Bombay - It was recently restored under the guidance of architect Reza Kabul.
From
World Architecture News
-
Mosque conceived of Iranian splendour receives a deserved touch-up
Mogul Mosque, constructed by an Iranian trader over a century ago, had
sadly lost its lustre with cracks forming in the 2'6" thick load
bearing walls, rotting wooden trusses and water damage as a result of
leaks.
Tasked with repairing the grand structure was Architect Reza Kabul of
India with whom the enormity of the task was not lost. Much of the
structure had to be reconstructed. The Mangalore tiles were removed and
replaced, wooden trusses dismantled before being repaired and
re-erected and the walls were stitched by drilling holes through the
thick walls and placing mild steel plates across the cracks. These were
then bolted through & through the cracks and filled with araldite
in order to bind the cracks together. Finally, the walls were plastered.
The inner walls are clad with a combination of Onyx and granite with
inlay of several Surahs from the Divine Quran. Years of oil paint on
the wooden doors and windows was removed by the burn and scrap process.
Thereafter melamine polish was applied. The glass window panes were
replaced along with all the hardware.
The exterior was clad with Mosaic tiles brought from Iran with inlays
of the Surahs (verses) from the Divine Quran. Also imported from Iran
were the three tier crystal chandelier and the Persian carpets for the
flooring.
To further maintain the originality of the mosque and retain the
Iranian heritage, the external facade of the mosaic/main door was clad
with Mosaic tiles from Iran featuring an art form widely practiced in
Iran. Due to the presence of leakages the pond (Hauz) too had to be
refurbished. The R.C.C. raft and retention wall were redone. The
fountain was made operational adding blue colour tiles thereby
enhancing the beauty of the Hauz.
The time taken for completion of the mosque to this stage was
approximately four years. This was mainly due to the fact that
materials had to be identified and then shipped in from various parts
of Iran. Having done that master artisans and expert labour also had to
be identified and brought in.
"The single minded drive behind the renovation, at all times was to
maintain the originality of the mosque and retain the Iranian
heritage," said Kabul. "And at all times what drove us on was the
understanding that the mosque is where one bows down in complete
humility to one's Creator."