Jama Mosque, Fatehpur Sikri
, India.
Emperor Akbar's epic in Red sandstones & Marble
.
Built during the Mughal Empire's Golden Era of Akbar's reign, this
mosque by many is considered the greatest accomplishment of emperor
Akbar who was known to be a pioneer in blending central Asian
architecture with regional Hindu architecture. Akbar's grand capital,
Fatehpur Sikri & Sikandra are prime examples.Built between 1571-1585, This landmark Mughal Mosque Architecture
has pushed the limits of Islamic Architecture thanks to regional Hindu
architecture. & there is one single reason for that or for LACK of
it for a mosque of this grand scale................................................WHAT IS IT???.....................................Buland Darwaza (Majestic Entrance)
Buland Darwaza (Majestic Exit) Exit from the courtyard.
Architecturally voted as the best entrance to the Mosque many times by Islamic historians.
Badshahi Darwaza (Emperor's Entrance)
on the side.
Fatehpur sikri Panorama
- Mosque dominates the now abandoned Mughal Capital.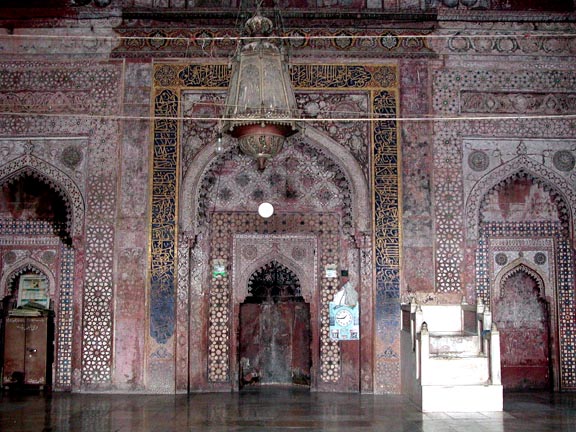 Grand Courtyard
Salim Chisty's tomb
Islam Khan's tomb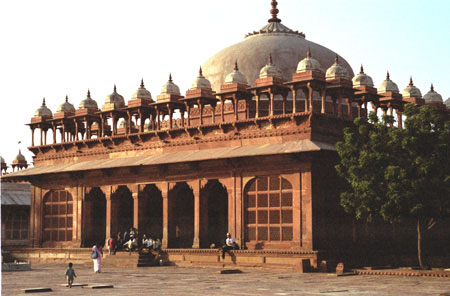 Entrance to the Actual Mosque from the Courtyard Inside.
Unknown Mosque / Mysore / India
Panchayat Mosque / Calcutta / India




Pink Mosque / Trivandrum / Kerala / India




Moorish Mosque / Kapurthala / Punjab / India : By Last Maharaja of kapurthala based on the architecture of AL HAMRA MOSQUE in MARAKKASH




Hamidiyyah Mosque / Bombay / India


Historic Mosque / Lucknow / U.P. / India
Pearl Mosque (Moti Masjid: Historic) / Bhopal / M.P. / India
Asafi Mosque (Historic) / Lucknow / U.P. / India
Spanish Mosque (Historic) / Hyderabad / A.P. / India
Historic Mosque / Punjab / India
Unidentified Mosque / Calcutta / W.B. / India