Moth Mosque, Old Delhi, India


Bara Imambara Mosque, Lukhnow, India.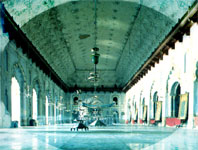 Jama Masjid, OLD DELHI. Endless Stairs of Front Entrance



Entrace Gate from INSIDE the Mosque.



Jame Packed Jama masjid Courtyard



Jama Mosque looks more elegant in Monsoon.



A rear view from the Minerat of Jama Mosque. Check out Old Delhi.
Jama Mosque, FATEHPUR SIKRI, Buland Darwaza (Grand entrance)



Jama Mosque, FATEHPUR SIKRI, Buland Darwaaza (Front View)
Jama Mosque, FATEHPUR SIKRI Grand Architecture.



Buland Darwaza under full security before arrival of Mr. & Mrs Pervez Musharraf for Prayer, FATEHPUR SIKRI. (a rear sight)



Buland Darwaaza, Jama Masjid, FATEHPUR SIKRI getting cleaned up in Monsoon rain.
Taj-ul-Mosque, BHOPAL, India



Architecturally speaking. One of the best mosques in the world.



It has a huge courtyard just like other Great Mosque of India
Here is another view of Never ending Stairway of Jama Masjid, Old Delhi





Pearl Mosque (Moti Masjid), inside Red Fort, Old Delhi. Its a beautiful marble mosque. must see.




Pearl Mosque (Moti Masjid) inside.


Pearl Mosque (Moti Masjid), Second Most important mosque in BHOPAL, India.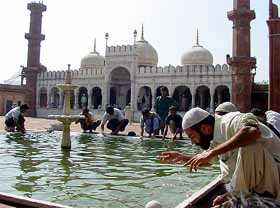 Another Pearl Mosque (Moti Masjid), Agra Fort, AGRA, India.



Beautiful Marble architecture inside the Agra Pearl Mosque.
Taj Mahal Mosque, Taj Mahal, AGRA, India



One of the least known Mosques of India is the Taj Mahal Masjid right
in the shadows of Legendary "Taj" itself. Its an architecturally
beautiful itself just like its "neighbor".


Aah!! You beauty!!. Overlooking the cradle of Eternal love.



Anther View of Taj Mahal Mosque. a must see.
Photos are prohibited inside the mosques in India but whoever snaped
this one. Thank you. Dont try it yourself. You will loose the camera.




The magnificiant interiors, the floor, the Majestic ceiling & Friday full house to the doorsteps of "Taj" itself